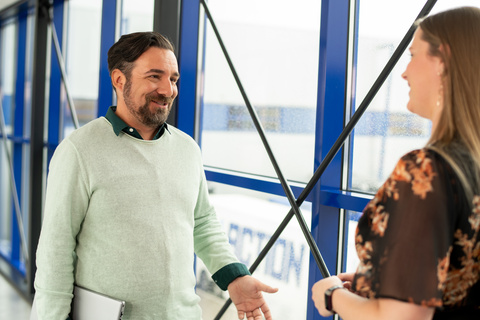 Your country, your Action!
Working at a country office
We want to be successful in every country where the Action formula is implemented. That is why all our stores and distribution centres can count on the support of a country office. Do you want to impact Action's nation-wide success while working in an international context? Discover the most dynamic office job in the Netherlands!
Small team, great impact
All our country offices are operated by a small team of motivated professionals. Bridging the gap between local Action stores and our international headquarters in the Netherlands, we address anything that can't be dealt with centrally: from opening and setting up new stores to local HR activities and organising country visits for guests. We aim for seamless execution and strive for operational excellence. Your country, your Action!
Where will your qualities fit best?
Our country offices employ people with various fields of expertise. We've got colleagues with a background in real estate, HR, finance & business control, sales, marketing & communication and office management. Who you are and how you can contribute to Action's success is more important to us than your resume. You are a walking encyclopedia to your colleagues with respect to your field of expertise and you provide support to the stores employees as well as important management information to your colleagues at the international headquarters. A two-way contribution to Action's continuous improvement!
Why work at a country office
One team, one task
A lot of responsibility
A lot of growth opportunity
Direct impact on the business